by Daniele "Found" Trovato
Interviews of the Sculptors Legend #4
Daniele Found interviews
Romain Van Den Bogaert
Hello everyone,
finally I'm here to interview a special guest.
My friend and great artist:
Romain van Den Bogaert.
Romain is an incredible French sculptor well known inside the miniature market.
In addition of being a great sculptor he's also an extraordinary character designer.
In my interview Romain explain us his personal experience to become a professional sculptor and some useful tips in sculpting.
A lot of fun, inspiration, and some tricks.
Enjoy the interview :-)
The interview
________________________________________________________________________
________________________________________________________________________
Simple Transcription
You told me you started working as a sculptor in 2015. Tell us what you do for a living? When did you start sculpting?
A long time ago in a far distant galaxy :-)
I was a teenager, I started collecting Magic The Gathering cards and playing role games.
I started like everyone: painting miniatures.
So did you start painting?
Yes, but I painted very little, for about 2-3 years and then I started doing small conversions on miniatures and making small changes.
When did you start sculpting your first miniature?
I was around 17 when I made my first attempt
I was an amateur and practiced.
It was excellent to find my personal approach to sculpture and find my own style because when you do it as a hobby and not as a work, you have no economic and financial pressures and you're free to experiment and try.
Do you remember what your first commission is?
In reality, it was not a real commission. I made a miniature and someone got interested and bought it. It was a sort of barbarian or a bust, but very simple, almost an academic bust.
And then did you start accepting commissions?
Actually no. I started sculpting and then someone was interested and bought the master.
You were telling me that while you were sculpting, your real job was the university researcher, right?
Yes, I was a scientist. I was a Ph.D. university researcher in Soil Science, Agronomy, Porous Soil System.
This is a beautiful thing because there are sculptors who have studied art and others who have learned to do everything by themselves. Exactly like you.
I am totally self-taught.
When I was sculpting something, I didn't know where I would go. I started and I was guided by my experience, nothing else.
I looked, corrected, tried. Attempts and errors.
When you quit your university career as a scientist to be a sculptor? Weren't you afraid to take this step in your life?
It wasn't very difficult. I sent many emails to companies and manufacturers of miniatures saying that I was available to take commissions.
I was very proactive in this.
Furthermore, some companies already knew me and therefore it was easier.
Sometimes if you don't ask, nobody gives you anything.
Didn't you like your job at university?
It is much more complicated than that. It's not easy to explain how I made this decision. It was a mix of several things.
Being a researcher as a university employee is not easy, especially in Europe. There is less and less money invested in university research, and there are few jobs, so it is difficult to get a permanent job in that sector.
Romain is absolutely the same in Italy.
Yes, there are sharks in the academic world.
Yes, often there is no meritocracy and there is not much equity.
About your sculptures, people immediately recognize your style. Especially in the faces. Your faces are very particular.
How did you learn? How did you learn the anatomy of the face so well and how do you create your characters?
It's not just about anatomy. In fact, the anatomy of the face is learned quickly enough. There are not many muscles in the face.
If you sculpt 4-5 skulls you learn it quickly.
Of course, but creating a pleasant and realistic expression is different, isn't it?
Yes, it's all about observation. The ability to observe and create a control of the real defects of the face. In reality, symmetry does not exist (at some point) . After that, you have to break the rules and create something different.
You have to think the expression, sad, happy, but then you have to make your own personal interpretation of the character.
When you create a character, are you clear what you want to create? Or do you just have a vague idea?
It is a non-linear process. I change always something while I'm working.
Not just the expression. Sometimes even sex. I also change from man to woman. Every time I sculpt I have no idea where I'm going.
Do you draw the character first?
Hardly ever. I'm learning to do it, but not to draw the character completely. Sometimes I draw some details first, for example if I have to sculpt an armor. The patterns and shape of the armor. Sometimes I draw those. I don't draw everything, because I don't want to be bandaged, I want to be free to change when I want, to follow my inspiration.
So do you want freedom during your creative process?
Yes, absolutely. Sometimes I start sculptures and then finish them after years.
I think of Jean Giroud Moebius, Stanisław Szukalski, Ivan Meštrović
When did you move to create larger sculptures?
Actually I didn't make many great sculptures. At the limit I made some 1/1 scale busts.
Do you think it is more difficult to sculpt a small bust or a large bust?
There is no right answer to your question.
The tools are different, the materials are different. Everything changes.
A small bust forgives you because it's small and therefore some errors of proportion and anatomy are not visible.
Yes, indeed. Especially in large sculptures, you don't do many details, but limit yourself only to the essential form.
My answer is not interesting, I know, but it really depends on what you want to do that's why there is no absolute answer.
Yes, in fact, there is no absolute answer.
Who are your favorite miniature sculptors?
Jacques Alexandre Gillois and Allan Carrasco (to see the interview with Allan go here)
(the interview with Jacques will come soon)
What is your favorite sculpting material?
Polymer Clay above all. Super Sculpey Firm and medium.
Painted by Josua Lai
I recently interviewed Tim Bruckner, who uses wax to finish his sculptures. Have you ever used wax?
No, but it would be interesting to try in the future. The problem with wax is that it is not accessible, you need a Wax-Pen and other materials. But I will definitely try in the future.
Are you planning to switch to 3D?
I am currently studying the software. I bought the license and am studying. However, I don't want to switch completely to 3D. 3D is just a new tool, that's all.
I want to use this tool as a new working tool.
It is very difficult to create patterns by hand, so 3D simplifies your work a lot. Maybe combine 3D and traditional.
I have seen that Joaquin Palacios has done something similar.
Yes, yes, I saw something. Very interesting.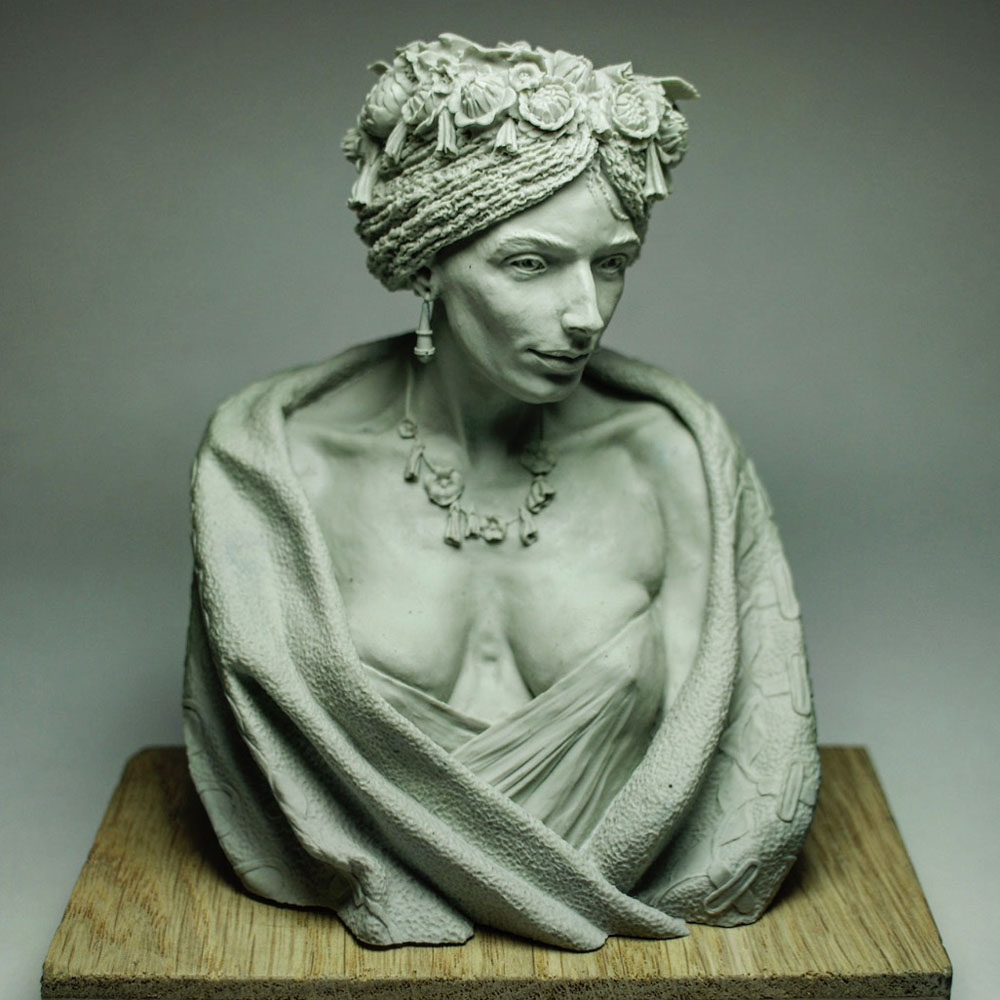 Do you think that a 3D sculptor should be considered a true sculptor or better "digital artist"?
Oh. Daniele. That's a bad question (laughs)
Joke. It's a provocation (laugh)
The point is that we have sculptors who first traditionally sculpted and then switched to 3D and sculptors who have NEVER done anything by hand and have gone directly to 3D.
Yes, the problem is that a sculpture is not a sculpture because you see it on your computer. At some point, the artist should 3D print what he is creating to understand how it is going.
It often happens that you put too many details in 3D, which is a small miniature that will never be seen, for example.
Let's think about a 35mm miniature.
Yes exactly, some make the pores of the skin. That doesn't make sense.
It's essential that before making 3D, a sculptor should start traditionally because you learn gravity, the weight of the sculpture, the balance.
These are things you don't see on your computer.
by Daniele Trovato (author)
In 3D you are more productive.
Sure. Very often it is simpler.
When I traditionally sculpt, I look at the shape and think about what I will have to do next. Sometimes I spend half an hour looking at the sculpture before touching it.
Those who work in 3D go fast and often skip this process.
This is normal because if you take some time by hand, in 3D you can do it immediately and you can also go back if you want. Easier. In 3d you go fast, fast, you experiment and you don't think.
3D allows you to create many details. But the fact that you can do it doesn't mean you have to do it. Sometimes less is better..
Very true, Daniele, We are sculptors of miniatures and we are sick of details on the model, but in 3D you've to be careful because you can zoom as much as you want and you can create everything. You have to pay attention to. Very often too much is wrong.
Final thoughts
As a sculptor, Romain taught me a lot because, besides being a great sculptor, he is also a great teacher and friend.
It was a real pleasure and an honor to be able to interview him.
Daniele
Link and resources:
-Daniele Found Trovato
-Romain Van Den Bogaert Site
-Romain's Artstation Portfolio
-Romain's Instagram
-
More Interviews?
_____________________________________________________________________________
Support NOW Massive Voodoo!
If you like to support or say thanks the monkeys of Massive Voodoo in what they do, please feel invited to drop a jungle donation in their direction via paypal or check their miniatures they got on sale here.
_____________________________________________________________________________