by Daniele "Found" Trovato
Interviews of the Sculptors Legend #2
Pedro Fernàndez Ramos
this is Daniele and today I'll interview a friend of mine and a powerful and incredible talented sculptor.
Pedro is an exceptional sculptor.
In his sculptures it is possible to feel technique, expressiveness and strong passion.
In the interview, Pedro will tell us how he became a sculptor, talking about how he started and what were the steps that led him to be one of the most important sculptors currently active.
We will deal with different topics including some ideas and differences between 3D and traditional sculpture, materials for sculpting, techniques, and many inspirations, based on Pedro's experience.
Pedro, in addition to being a great artist, is a very kind, friendly and very helpful person..
ATTENTION:
The interview is in Spanish, but I translated the most important thing below
FOR SPANISH AUDIENCE:
Lo siento por mi Español, soy solo un principiante y estudiante
Sorry for my Spanish, I'm a principiant and a student :-) :-)
---
---
Me, Pedro and Pepe
The transcription
How did you start sculpting and how did you start doing this profession?
I started thanks to a father of a friend of mine, who introduced me to monumental sculpture.
At the time he asked me to sculpt ( knowing of my interest in sculpture and drawing) .

Painted by Magnus Fagerberg
Have you studied art or something like that?
No, I studied advertising graphics, but actually, I never worked on it in that sector.
When I had the opportunity to work with people who already had experience in sculpture, I accepted.
I started as an apprentice.
At the beginning I was totally inexperienced and I asked myself "where am I going"?




How many years does all this?
About 25 years ago.
And so I began to sculpt large sculptures for a Marine Museum figures such as seals, whales, dolphins etc ... etc ...


Were you already good at drawing?
Yes, I practically devoted myself only to that.
But when I started with sculpture it was beautiful, because sculpting gave me the opportunity to touch what I created and also to create real "things" from scratch.
Drawing is beautiful, but it remains a draw, you cannot turn it over, or touch it. It isn't a real figure.
And so I began to learn the rudiments of sculpture like the common way: teacher-student.




And so in 4-5 years I have sculpted more and more complicated things, which however have trained me as a sculptor.
What was the most beautiful thing about that experience?
Certainly that of having learned from people who already had a lot of experience in sculpting, this was crucial for me. Especially in the sculpting's interpretation, before the technique.
I learned how structures were made and then bronze statues.
Do you still know this teacher?
Yes sure. He is a teacher who lives in a small town near Seville.


Definitely him. He was very good, because he also allowed me to see the sculptures from my point of view, he gave me this freedom.
He was direct when he had to be direct, and gentle when he had to be gentle.
I always wished to look at the sculptures "with my own eyes". And he allowed me to do that.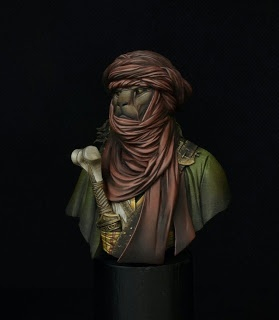 Sculpted for Origen
After what have you done?

At that point I also began to sculpt miniatures.
What was the first miniature you sculpted?
If I'm not mistaken, he was a 30mm mummified Pharaoh.
After that, I began to understand the language of the miniature, which has its own language and interpretation, different from other types of sculpture.
The thing is that a miniature is born for an audience that in turn must be able to interpret it, because the miniature must be Painted.

Painted by Pepa Saavedra
Do you think it is more difficult to sculpt a small or a large sculpture?
I don't think it's a question of size.
It is an interpretation question.
In large sculptures you have a lot to think about where the sculpture will go, the environment, the light, because large sculptures are normally not Painted.
For example, a portrait in natural size, which should not be painted, is easier for me.
I would have thought that smaller is easier because a smaller sculpture "forgives" some mistakes.
Yes, but you have to think of a miniature like theater: an actor at the theater, seen by a distant spectator, he sees the actor but doesn't see the actor's face. A miniature is very similar to an actor seen from afar.
The expressiveness of the sculpture depends on the distance from which you look at it


Speaking of sculpture miniatures, do you have any sculptor you particularly like?
Definitely Simon Lee and Noe Serrano who is a modern fantasy sculptor, and hyperrealism.


Painted by Pepa Saavedra
How many miniatures have you carved in your career?
I have no idea. Maybe 100 or something. Consider that normally I sculpt 3-4 sculptures a month.


Sometimes it happens that people see a sculpture and don't think about the process. They only see the result, without thinking that there is a lot of work and study behind it.
It always happens. Sometimes they ask me how I made certain pieces, but consider that 70-75% is always a study. Study and study. Whatever I sculpt always requires a study first.
I normally never have a clear idea of ​​what I want to do, but then it becomes clear by working on it. But everything starts from the study: study of anatomy, details, textures, etc ... etc ...


Do you draw your sculptures before you sculpt them?
No, I almost never do it. I prefer to work directly and create while I sculpt. Then maybe even the drawing but normally I work directly on it.
I am very impatient, I want to create it immediately and not draw it. Sometimes I am very confused and I don't know what to do, sometimes I am very confident and I go straight.
What is the preferred material for sculpting?
It really depend on what I want to do.
I use mainly Super Sculpey and Fimo Classic.
If I have to do something that I don't have to cut, I only use Super Sculpey because when you cut it, after you have baked it, it is fragile and breaks.
If instead I have to do anatomy, an animal, a bust or something like that, I mix it with 50% -50% FIMO because Fimo is more elastic and flexible.
FIMO and Sculpey have different cooking temperatures, so you need to find the right cooking point for the new mix. But with this mix you can still do everything.

Painted by Alejandro Prieto for Beyond Miniatures
Have you ever carved with wax?
I did a test. But I actually like to use it to sculpt larger sculptures.
Alfonso Giraldes "Banshee" suggested that I use it, and I accepted.
I like it very much but I prefer it for bigger things.
The reality is that I have the habit of using my clay that I've used since all my life.
Wax takes me too long.
Then, like everything, it's always a matter of practice.
I use wax when I have to create a bronze sculpture with the "lost-wax" technique, but it is a technical thing that has existed for thousands of years.


So the material you use isn't the most important thing, right?
Exactly.
You have to think about expressing your idea, your feeling, your emotion. It can be wax, Super Sculpey or a pencil. The material must be only a means of expressing what you want to create.
If something is wrong, it is not the fault of the material you have used.


Painted by Patricia Sancho
Dangerous question: you are one of the few sculptors who hasn't yet switched to 3D.
Do you think that a digital sculptor should be considered a sculptor or rather a "digital artist"?
Very complicated question.
You have to think of 3D as a means of sculpting, nothing more.
There are sculptors who come from the traditional and others who started directly with 3D.
The sculptor who comes from the traditional has an experience, a knowledge, a point of view, he can do everything in 3D.
Example: a sculptor who comes directly from 3D, if you ask him to sculpt a girl, he cannot do it, because he lacks a type of education that traditional sculptors have.
I had this conversation recently with Raul Garcia La Torre who now only sculpt in 3D, but he comes from the traditional.
We cannot blame the medium we use to sculpt, 3D or traditional.
Everyone has their own experience and a way to "express" this experience.
In my case I feel comfortable with the traditional one, but obviously I don't close the door to 3D.
I miss this language.
If you can sculpt in traditional, you can also do it in 3D.

Sculpted for Origen
Raul Garcia La Torre is a perfect example because he comes from the traditional and is a great teacher.
Sure. The only thing about 3D that I don't like is that you don't have a real piece in front of you.
If I want to give the character an expression, I personally prefer the traditional. But 3D is always a valid tool.
Many always recommend drawing before working in 3D. If you have to make mistakes, first make them drawing.


I would love to interview Raul because talking about miniatures he is perhaps a legend of miniatures.
Yes, he is one of the greatest fathers of the miniature. I met him thanks to Pepa Saavedra who I recommend talking to him. Raul is kind, friendly and has given me his points of view, and I always thank him for that.
But after that I always put mine in the things I do. But every time I talk to him he always opens my eyes. Raul always recommends me switching to 3D.
Another example is Joaquin Palacios who sculpt both traditional and 3D.
If I had to choose, I would probably go back to monumental sculpture, applying what I have learned now with miniatures, with new materials and with new technologies.


One thing you told me is that you create a story behind each sculpture. In each sculpture you create a character, a story and contextualize it. You introduced me to Pepe Gallego, a very nice person.
How did this collaboration with Pepe start?
Pepe is a writer who has published several things.
I met him through Fran Galàn and Pepe was the meeting point of the two of us. He gave us his opinion.
One day he told me about a fictional character and I sculpted him. This thing I liked very much because the story of the character is very important. We are very aligned and we think the same way. All my sculptures have details related to the story, or what the character is doing.


Painted by Mirko Cavalloni for Aradia Miniatures
What are you working on lately?
As far as I can tell, I'm going to finish the pieces of the OZ series, and after .... actually I have a thousand ideas. You will have many projects and things even outside the world of miniature.
Final thoughts
I want to thank personally Pedro for his availability, kindness and to share his experience with us.
Daniele

Support NOW Massive Voodoo!
If you like to support or say thanks the monkeys of Massive Voodoo in what they do, please feel invited to drop a jungle donation in their direction via paypal or check their miniatures they got on sale here.
_____________________________________________________________________________